The XWFE Refrigerator Water Filter undergoes extensive testing and adheres to stringent industry standards, guaranteeing optimal filtration performance. With each filter change, you can experience peace of mind, knowing you consistently provide your family with the purest and safest drinking water available.
Replacing the filter cartridge inside the refrigerator is hassle-free, requiring no tools or water turnoffs. For optimal filtration performance, it is recommended to replace the filter cartridge every six months or after filtering approximately 300 gallons of water (or earlier if the flow rate noticeably decreases).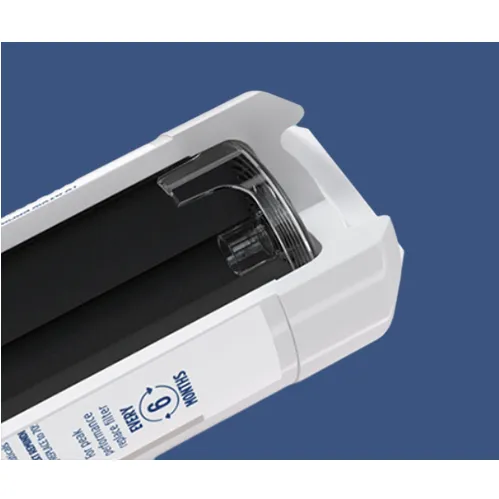 Works with any refrigerator that uses GE XWFE filters. It is used in select GE French door refrigerators. Compatible with select GE French door refrigerators.
Say goodbye to the hassle of using water flow tools to replace your refrigerator's cartridge. With the XWFE Refrigerator Water Filter, replacing the cartridge is a breeze. Simply follow the user-friendly instructions, and you can easily replace the filter without any additional tools. Enjoy the convenience of quick and hassle-free maintenance.
The filtration effect and high-quality materials reduce harmful substances in the water, allowing you to drink cleaner water. Ensure you've always got clean water from your refrigerator without worries, bringing a wonderful drinking experience to your whole family.
Designed to remove up to 99.99% of all tap water contaminants, the PureWater Refrigerator Filter is the most sensible choice in water purification today. Unlike typical filter technologies, our Filtration Technology uses 3+proprietary filtration materials to create multiple stages of filtration that can remove up to 99.9% of 365+ contaminants. Enjoy some of the cleanest water on earth knowing that each sip is contributing to the reduction of single-use plastics.
By incorporating the GE XWFE Refrigerator Water Filter, you can enjoy the refreshing taste and exceptional quality of your water. The difference will be undeniable!
Compatible Models: XWF, XWFE, WR17X30702, GBE21, GDE21, GDE25, GFE24, GFE26, GNE21, GNE25, GNE27, GWE19, GYE18, QNE27, GSE25, GSS23, GSS25, GZS22, PSE25, CZS22, GNE27JSMSS, GNE27JMMES, GNE27ESMSS, GNE27JGMBB, GNE27JGMWW, GSE23, GSE23G, GSE26, CFE26, XFE26, CWE19.